This post may contain affiliate links. If you buy thru these links, we may earn a commission at no additional cost to you.
---
Although Sweet and Sassy is a very girly place, they also do little boy haircuts too. I actually called the salon and asked.
UPDATE: Today, it's called Divas & Dudes – The Family Salon.
The first time I took my son, I scanned the salon and saw plenty of other boys too. Even though he wasn't even 2  years old at the time, I had to make sure I didn't make him the butt of any jokes later in life.
The reason that I tried Sweet & Sassy in the first place was because I didn't have good luck with Snip Its — another salon for kids in Franklin. The haircuts my son received there were not consistently good and the staff wasn't very friendly. My biggest concern was that they don't take appointments unless you are a member and pay a fee.
Like most toddlers, my son doesn't wait easily. Sweet and Sassy does take appointments so I immediately wanted to give it a try!
 
Great Location
Sweet and Sassy is located right in between Baja Fresh Mexican Grill and Bread and Company on Cool Springs Boulevard.
So it's also in a great location to grab dinner after the haircut!
Their address is 430 Cool Springs Blvd #110 Franklin, TN 37067
Call (615) 771-0707 for an appointment.
First Impressions
The inside has lots of distractions for kids, which is key to keeping them entertained and not scared. The walls are painted with bright colors, the ceiling has colorful circular shapes and there are white columns with mosaic designs on them.
There are several sections of the salon too.
There is an area called Glam Central for getting makeup done, and the Pampered Place for hair styling and nail polishing, a gift shop with lots of girly gifts, and of course the haircut area.

They're Great With Kids!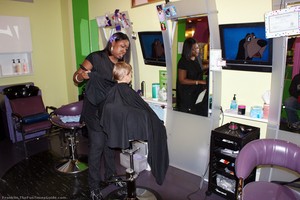 The last time we went, we were greeted by the stylist as soon as we walked in. She immediately started talking to my son and she walked him to her haircut station. She placed him on the chair and kept him talking. Then she asked us how we wanted the cut.
She started cutting while he watched 101 Dalmatians on a TV at her station. When she wanted him to look down so that she could cut the back of his hair, she pulled out a magna doodle and put it in his lap and asked him to draw her something.
She also had some cars on hand just in case, but it wasn't necessary. She was done in about 10 minutes and then he got a high 5 and a sucker!
For us, Sweet & Sassy will do just fine for now. When my son is older I'm sure that we can switch to Sport Clips in Franklin.
By the way, if you have a little girl, Sweet and Sassy also offers salon parties!
 
UPDATE 2/3/10:  Sweet & Sassy changed its name November 2009 to Divas & Dudes – The Family Salon. Same owner. Same location. Now you can get haircuts for the entire family!
I live in Franklin with my husband and our toddler son. I enjoy writing about our experiences visiting places in Franklin, Cool Springs, and the Brentwood area.