This post may contain affiliate links. If you buy thru these links, we may earn a commission at no additional cost to you.
---
Following is a huge collection of Pat Green photos taken "live" in concert at The Trap in Nashville, Tennessee!
First, some Pat Green facts:
Check out our post: Pat Green: Country's Party Animal
Now, even more of our Pat Green photos…
Pat Green Cruising The Parking Lot Before The Show
On February 21, 2004 we went to The Trap — a hip new bar across the street from the Coliseum in Nashville — to see Pat Green in concert. Here, Pat Green (and some unknown big-wig) was cruising the parking lot right before the start of the show. Being able to capture this picture made up for the fact that we had to stand in the FREEZING cold for HOURS! (…they didn't open the doors when they said they were going to)
Pat Green At "The Trap"
We were probably the oldest fans in the place, but "The Trap" in Nashville, Tennessee was a great place to see a Pat Green concert! He's said himself that he feels he brings a younger audience to Country music.
Drumming Up Some Good Music
We were in the front row in the "mash pit" -slash- "elbows in your face" area. Luckily, the three of us (Jim, Mike and myself) managed to secure the entire right edge of the stage for ourselves, and we scored about a hundred or so photos of Pat Green and his band!
World's Best Electric Guitarist?
Brett Danaher, Pat Green's electric guitarist, was a joy to watch — especially up close and personal like we were!
Pat Green: Footloose And Fancy Free
Pat Green performed the entire concert barefoot. Jim has always said he likes Pat Green songs cuz they have a little more "sole" in them…
A Few Beers Short Of A Six-Pack
It's no secret, Pat Green was on a drinking binge this night at The Trap… which made for a very unique musical event!
Brett Danaher ROCKS!
This guy completely stole the show!… He's an incredible guitar player, and we were front and center for "the Brett Danaher show".
Grinning From Ear To Ear
At the time, we weren't the diehard Pat Green fans that we are today. So we were quite intrigued by all the "Pat Green Groupies" who seemed to be innately in touch with Mr. Green. Sometimes, it seemed that there was a whole different language going on between Pat and his fans. One thing's for sure: He really interacted with the crowd on this night at The Trap. He's very enthusiastic!
Here's Lookin' At You!
Pat Green mugging for the camera…
Brett Danaher: He's A Screamer!
Brett is really caught up in the moment here. There's one thing for sure: He gives it all he's got during the ENTIRE show! And he's a huge asset to the Pat Green band.
The Point Is Clear: Pat Green Can ROCK The House!
Pat Green really rocked the house here at The Trap! From his ballads to his heavy hitters, he put on a GREAT show.
Mike Daly On Steele Guitar
Nashville's own Mike Daly was on steele guitar this night for Pat Green & his band.
A Man And His Band
This was a really fun band to watch… Pat Green and the guys really put on a good show for the crowd.
Pat Green In The Spotlight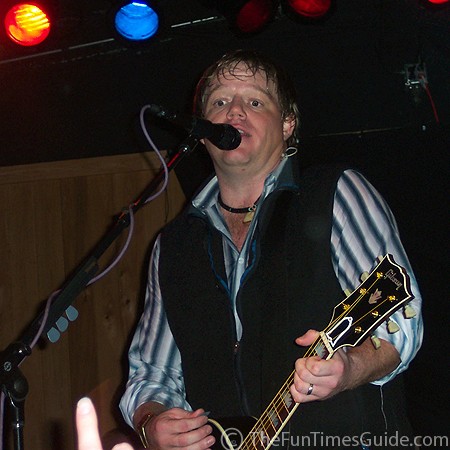 Under the heat of the lights, Pat Green put on one heck of a show at The Trap.
Pat Green Interacting With His Groupies
He's got a cultlike following of groupies… These guys are perfectly in tune with Pat Green from start to finish, song to song. Here, he's being one with his audience.
Brett Danaher: He's Electric!
An awesome guitarist… a joy to watch!
Pat Green Singing Good & Loud
He sings loud, he sings soft. Pat Green definitely has his own sound, and he's hard to classify by genre. I'm reminded of a quote I heard once: "If you can't be good, be loud." -Rich Mullins. Pat Green is definitely loud… AND good!
Jam Session
Let's hear it for the band… Here's Michael Tarabay on bass and Brett Danaher on electric guitar.
Sing It To Me…
Pat Green really "connects" with his fans and interacts with the crowd better than I've seen from most performers. The entire show is one big party!
That's Some Fancy Footwork!
Pat Green is "real"… Here, he's REAL comfortable!
Let Me Entertain You
Can you tell that we were just as captivated by Brett and his electric guitar playing as we were with Pat Green himself?…
All Smiles…
Pat Green was all smiles on this night at The Trap in Nashville, Tennessee.
In A State Of Deep Concentration
Despite the fair number of drinks that Pat Green had this night, he kept his wits about him, and put on one heck of a show! Here, he's concentrating on the music…
He's One With His Guitar
Brett Danaher jamming on his electric guitar with Pat Green's band at The Trap in Nashville.
Pat Green: A Real Show Stopper
Why be normal?… No matter how serious life requires you to be, everyone needs to act goofy with once in awhile. Here's Pat Green (still) trying to be the life of the party. One thing's for sure, he threw one heck of a party at The Trap in Nashville on February 21, 2004! He's just a big 'ol kid.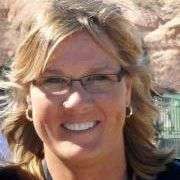 We moved from Florida to Tennessee in 2001. All signs point to the fact that we will probably retire here — by choice. We L O V E Nashville! Our favorite places to live are just south of the City — we've had houses in Brentwood, Franklin, and Spring Hill. And we have properties in Leipers Fork, Cookeville, and Lewisburg. This site is where I share my best tips for moving your family to Nashville and/or visiting Nashville for the first time — with the ultimate goal of helping you find fun things to do in Williamson County and Davidson County. When I'm not out & about enjoying the Nashville area, you'll find me at the corner of Good News & Fun Times as publisher of The Fun Times Guide (32 fun & helpful websites). To date, I've written over 500 articles on this site! Many of them have upwards of 100K shares.