This post may contain affiliate links. If you buy thru these links, we may earn a commission at no additional cost to you.
---
…give or take 93.
We went to an NHL hockey game the other night with our "cellmates", Neil and Abby.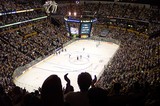 Who played?
…Nashville Predators
Where'd we sit?
…Section 303 (a.k.a. Cell Block 303)
When was it?
…the first NHL game of the season! (October 5, 2005)
What about the hockey SWAG?
What made this night especially interesting (in addition to knowing that every NHL team in the country was playing hockey on this night …for real!) was the fact that they handed out free miniature Stanley Cup trophies to everyone in attendance.
It was in honor of the fact that the Nashville Predators will be taking home the "real" Stanley Cup trophy in June, of course!
Now, most of the things we receive as giveaways at sporting events just end up sitting around in a big memorabilia box, treated as if they're some sort of valuable piece of NHL hockey history.
It's like, "I'm sure we'll find a great use for that… someday!"
Yeah right.
Well, in an effort to stop collecting more "stuff" and start USING what we've got lying around the house, the four of us found some really creative uses for hockey SWAG like these miniature Stanley Cup hockey trophies.
Fun use #1 for a miniature Stanley Cup hockey trophy:
Jim thinks it could best be used as a shot glass!
Wait… or is that a nose scratcher?
I'm not sure, but along the lines of the "shot glass" idea, it would be a smart thing to pack next time we go to Michigan!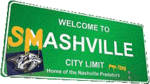 Fun idea #2 for ways to use a miniature Stanley Cup hockey trophy:
Neil is auditioning for the Preds' next commercial. You know, that one where they're "welcoming fans to SMASHVILLE"… Maybe he's onto something — use the miniature trophy in future ad campaigns.
Listen to the hockey song "Welcome To Smashville" by singer/songwriter Dar Scot (…here are the lyrics).
Fun way #3 to use a miniature Stanley Cup hockey trophy:
Abby is fresh out of ideas. Forced to "play along", she offers up something about a Christmas gift for her brother-in-law. Good one, Abby! Truthfully, much of the SWAG we get at hockey games could be viewed as fun playthings for the little tykes (and brother-in-laws) in the family.
And, of course, I couldn't resist sharing my own creative use for these silver trophies.
(…drumroll please)
Fun thing #4 that miniature Stanley Cup hockey trophies can be used for:

Turn them into a display stand for one of those hockey pucks you've got lying around! You know, from previous years' hockey SWAG. I can see this being prominently placed in the TV room, as a good luck charm whenever we're watching the Preds on television.
…that, or I could see myself using it for an earring holder. Oh, wait, maybe a gum rest!
Speaking of… what the heck was the purpose of those things? My mom actually bought me one of those "fad" gum rests when I was a kid. But, now that I think about it, were people actually supposed to SAVE their already chewed gum & reuse it??? Okay, that's it… I'm off to research other crazy fads now.
If you liked this, then you'll love…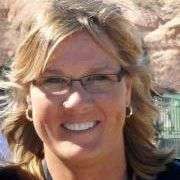 We moved from Florida to Tennessee in 2001. All signs point to the fact that we will probably retire here — by choice. We L O V E Nashville! Our favorite places to live are just south of the City — we've had houses in Brentwood, Franklin, and Spring Hill. And we have properties in Leipers Fork, Cookeville, and Lewisburg. This site is where I share my best tips for moving your family to Nashville and/or visiting Nashville for the first time — with the ultimate goal of helping you find fun things to do in Williamson County and Davidson County. When I'm not out & about enjoying the Nashville area, you'll find me at the corner of Good News & Fun Times as publisher of The Fun Times Guide (32 fun & helpful websites). To date, I've written over 500 articles on this site! Many of them have upwards of 100K shares.