This post may contain affiliate links. If you buy thru these links, we may earn a commission at no additional cost to you.
---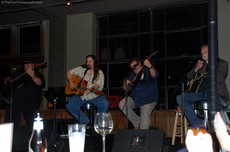 Jim and I went to the Grand Opening show at the new Listening Room Cafe in downtown Nashville a couple weeks ago. Jim's parents were in town, and they had a great time at the show with us.
You may recall, I've written about the Listening Room Cafe in Franklin, TN before. Well, they recently closed the Franklin Listening Room Cafe and moved everything to its new Nashville location.
Fortunately, Nashville is only a short drive from Franklin (where we live), so I'm sure we will still be regular visitors at the Listening Room Cafe. Plus, it's also a great place to take guests who are in town visiting.
Following are photos and highlights from the very first big show that took place at Nashville's Listening Room Cafe.
The songwriters who performed were:
(That's Chris Blair, owner of The Listening Room Cafe, in the middle.)
Before You Go…
If you're headed to the Listening Room Cafe in Nashville for the first time, make sure to take some cash with you.
You can pay for your drinks and food with a credit card, but your cover charge (which goes directly to the band) must be paid in CASH. If you forget, there is an ATM machine right outside the door.
Here's the upcoming schedule for the Listening Room Cafe in Nashville.
Where To Park
UPDATE: The Listening Room Cafe has moved  to a new location: 618 4th Avenue South, Nashville TN 37210 — so parking is no longer an issue.
We were pleasantly surprised with the set-up inside the Listening Room Cafe. It's located in Cummins Station — pretty much the farthest door from the main road where Cummins Station begins (Broadway).
There's a parking lot across the street — which is really convenient, but also really expensive! It costs $10 to park there. I'm guessing there are better places that are just as close; maybe even curbside parking nearby.
PARKING UPDATE: There are 25 FREE parking spaces designated just for Listening Room Cafe guests. When you turn off of Demonbruen onto 10th Avenue south, the last parking lot on the left is the one with the free spaces.
First Impressions
Inside, the Listening Room Cafe very small and quaint. In fact, the seating goes down a long and narrow room, rather than being in the traditional "in the round" style that songwriter nights typically feature. The music was the same, the seating was not.
We were lucky enough to have front row seats (in the large comfy chairs right in front of the stage… more like a comfy couch). It was perfect.
I made a point to walk to the very back of the room — where the restrooms and the farthest seats in the house are — and I'm happy to report that the sound was still really good back there as well!  They've definitely got the sound figured out at Nashville's Listening Room Cafe — just like they did at Franklin's tiny location. You just don't have as good of a view from back there, because you've got lots of people seated at tables between you and the stage.
On With The Show!
Tony Mullins was first up. He sang a new hit he penned for Trent Tomlinson "Put A Little Stank On It". HILARIOUS! Lots of fun.
We've actually seen Tony Mullins perform lots of times — both in Franklin and Nashville. He gets around… from Puckett's Grocery to the Bluebird Cafe to the Listening Room and everywhere in between. He's definitely worth seeing any time you get the chance. Every show is all new, all Tony, and all craziness!
Other songs Tony Mullins sang on this night were:
The Worst 15 Minutes Of My Life (Rodney Atkins)
Me And My Gang (Rascal Flatts)
Somethin's Gotta Give (LeAnn Rimes)
Little Bit Of Life (Craig Morgan)
Backward (Rascal Flatts, Billy Ray Cyrus, Miley Cyrus — from the new Hannah Montana movie)
If You Ever Stop Loving Me (Montgomery Gentry)
Now I Know How Forever Feels (Kenny Chesney)
The Church On Cumberland Road (Shenandoah)
Here's a funny story about the words in Me And My Gang as Tony Mullins told it to the crowd at the Listening Room Cafe:
All I could come up with was, "A dude named King Kong eatin' on a Ding Dong" but that wasn't going to fly. He had one hour to come up with a new line. He was sweating bullets and eating chicken wings a the Hooters listening to his iPod. Thus came, "Dude named Elrod jammin' on an iPod".
Chris Wallin is the the one that I'd heard so much about, but had never seen in person — until this night. He's a tad more serious in the songwriting department — tonight, many of his songs were about God, love, and other sweet things… with an edge! Nice guy. GREAT songwriter. I'm so glad I had this opportunity to watch him perform live.
The songs that Chris Wallin sang tonight included:
Somethin To Be Proud Of (Montgomery Gentry)
Everybody Talks To God …GREAT new song!
Dust On The Bottle (David Lee Murphy)
Adaliene (Keith Anderson)
Don't Blink (Kenny Chesney)
Speed (Montgomery Gentry)
Love Me If You Can (Toby Keith)
Chris told us he got the idea for "Love Me If You Can" came from a Jerry Springer episode while writing with Craig Wiseman. He said now there's a parody of the song floating around on YouTube — something about "hate me in the cell block, but love me in the can."
Chris Wallin also sang for us the "missing verse" to Speed — a song he penned for Montgomery Gentry.
Bob DiPiero was full of great stories. The most memorable was the ibe he told of his former father-in-law Mel Tillis and his ex-wife, Pam Tillis. There was nothing mean or hurtful in these stories… just funny. Like the fact that Mel called thought his name was Bob Sakura for years. A bunch of "you wouldn't believe it unless you lived it like I did" kind of stories. Good stuff.
You can't look at Bob DiPiero or have a conversation with him (or about him) without smiling til it hurts.
Some of the songs that Bob DiPiero sang on this night were:
You Can't Take The Honky Tonk Out Of The Girl (Brooks & Dunn)
Blue Clear Sky (George Strait)
Gone (Montgomery Gentry)
Look Who's Lookin At Me (…there's a hidden lyric in this one about "tits and ass")
Question to the group from one of the guys on stage (I think Chris Wallin): "Who had 25 songs in the Top 50 at one time?"
Answer from someone in the group (probably DiPiero or Mullins): "Yeah, Mel Tillis had the most songs in the Top 50 at once and they spread like Hillbilly Ebola!"
Aaron Barker was the biggest surprise of the night for us. What a treat to get to meet him for the first time and watch him perform live.
The only problem: Aaron Barker informed the audience that he does the vocals for lots of the Blue Bell ice cream commercials. And he sang a couple of those for us. Now, I can't say his name without singing it like the Blue Bell ice cream jingle.
Aaron's songs were deep and from the heart. He penned a lot of George Strait's hits and some Kenny Rogers songs too. The rest were pretty serious & slower songs. Nice.
The songs Aaron Barker sang tonight included:
What About Now (George Strait)
I Can Still Make Cheyenne (George Strait)
Thank You For The Rose In My Garden But Mostly For Making Her Mine (Aaron told us, "God wrote this one, he just let me put my name on it.")
Baby Blue (1970's, his first hit with George Strait)
Easy Come, Easy Go (George Strait)
Touch (…a song about the people he met on the 11th Floor in Vanderbilt Hospital)
The Grand Opening Finale
Since this was the first big night with some of the Nashville's top songwriters at The Listening Room Cafe, there was a cake in honor of the occasion.
Chris Blair and Mark Craven are co-owners of the Listening Room Cafe in Nashville. Chris was on hand to present the group with a guitar-shaped cake — which we were all invited to have a piece of.
My hat is off to both of the Listening Room's owners. I only met Chris, and he was working his butt off on this night — yet there were no signs of those typical "opening night jitters".
Chris was a great host and he did his best to make sure everyone was having a good time. After the show, he told us that he ended up spending a good deal of time in the kitchen that night cooking food, because they weren't prepared for the all the different menu items requested during this short time. This isn't your typical bar food either! It's a full menu, folks. Good stuff.
More fun stuff on The Listening Room Cafe's Facebook page.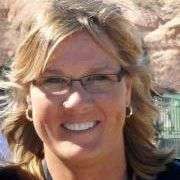 We moved from Florida to Tennessee in 2001. All signs point to the fact that we will probably retire here — by choice. We L O V E Nashville! Our favorite places to live are just south of the City — we've had houses in Brentwood, Franklin, and Spring Hill. And we have properties in Leipers Fork, Cookeville, and Lewisburg. This site is where I share my best tips for moving your family to Nashville and/or visiting Nashville for the first time — with the ultimate goal of helping you find fun things to do in Williamson County and Davidson County. When I'm not out & about enjoying the Nashville area, you'll find me at the corner of Good News & Fun Times as publisher of The Fun Times Guide (32 fun & helpful websites). To date, I've written over 500 articles on this site! Many of them have upwards of 100K shares.