This post may contain affiliate links. If you buy thru these links, we may earn a commission at no additional cost to you.
---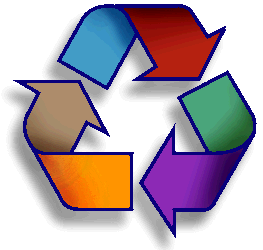 Did you know that every time you recycle, proceeds derived from the sale of recycling support schools and various community and environmental projects?
That's pretty cool.
It certainly motivates me to make more of an effort to recycle on a regular basis.
My problem is when I think about recycling, I get confused about what gets recycled, how to prepare it, where to put it, and when & where to deliver it.
So rather than educate myself on the process, I usually end up throwing all my trash in the can.
I finally decided to sit down and find out how to do this thing called recycling, so I thought I'd share with you what I found.
Recycling 101
First of all, recycling means separating, collecting, processing, marketing and ultimately re-using a material that would have been thrown away.
For example, this morning's newspaper can be recycled for another morning's news or other paper products.
Recycling not only conserves our natural resources and protects our health and environment, it also reduces our dependence on landfills and incinerators.
What Can Be Recycled In Williamson County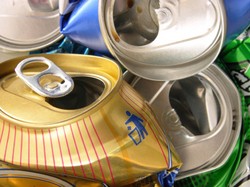 I was surprised to learn that, in Williamson County, these items can be recycled:
Paper
Cardboard
Plastic and glass
Aluminum cans
Tin/steel cans
Washers, dryers, stoves, refrigerators, water heaters, metal ladders, grills and bicycles
Clean wood waste (made into compost at the Landfill Brush Bin)
Used motor oil
Yard trimmings
Small rechargeable batteries / electronics / cell phones
To help you sort through the process of recycling, there are a few websites with great information:
Keep Williamson Beautiful is devoted to educating residents of Williamson County on the various ways in which we can help keep our county as beautiful as it is today.

Williamson County Government has a website that offers lots of information about solid waste management and recycling.
Where To Recycle In Williamson County
There are a number of Recycling Drop Off Points and Convenience Centers around the county which are dedicated to accepting specific types of recyclable items.  Recycling collection locations are unmanned and open 24 hours a day, but Convenience Centers are open only during certain hours.
Check the hours of operation for each location before you head over.
What About Hazardous Waste?
Each Spring and Fall, Williamson County and the Tennessee Department of Environment and Conservation sponsor a Household Hazardous Waste and Computer Recycling Collection Day.
The event takes place at 1320 W. Main Street at the Williamson County Administrative Complex.  Check here or call (615) 790-5848 for exact dates.
Examples of Household Hazardous Waste include:
Cleaning Products
Automotive Supplies
Hobby Products
Personal Products/Pharmaceuticals
Pesticides
Home Environment Supplies
Recycling Other Items In Williamson County

Other household waste items can also be recycled. Here's a list of some of these and where to take them:
Automotive batteries – Several businesses in Williamson County accept rechargeable batteries for recycling including the Williamson Recycles office 420 Century Court, Franklin. More locations here.

Cell phones – Keep Williamson Beautiful/Williamson Recycles office, 420 Century Court, Franklin.

Ink and Laser Jet Ink – Keep Williamson Beautiful/Williamson Recycles office, 420 Century Court, Franklin.

Used Christmas trees – Collected at designated locations throughout Williamson County December 26 through January 15th.

Tires, anti-freeze, car batteries and motor oil – Accepted at the Williamson County Landfill, 5750 Pinewood Road.

Paint – Only accepted at the landfill's Convenience Centers unless your paint has been dried.

Computers, monitors and computer components – The recycling of these items are part of the year-round recycling program in Williamson County. The largest number of computers are collected during our twice-a-year Household Hazardous Waste collection (mentioned above). Computers are also accepted at the Material Recovery Facility located at 420 Century Court in Franklin.
What Needs To Go To The Landfill?
If you're doing a renovation, or demolishing an old barn or perhaps pulling out plant material
s, Williamson County residents are allowed to bring one level truckload per day (3 cubic yards) to the landfill's Convenience Center.
Anything over a level truck load must be sent to the Williamson County Landfill directly.
There is no charge for leaving materials from your personal residence in Williamson County, but contractors and commercial haulers are charged a dumping fee.
Be sure to visit the Williamson County Landfill website and call for specifics on what you can bring and how to prepare it for delivery to the landfill.
On a personal note… I made the mistake one day of trying to get rid of some topsoil through my trash bin that the city picks up curbside.  The can was so heavy from the weight of the soil, the automated lift on the garbage truck couldn't even lift it!  The driver of the trucked honked his horn and I came out of the house… and was mortified to have him inform me of my boo-boo.  I had to shovel all the soil back out of the bin and find another way to dispose of it.  That would be a great example of waste that should be taken to the landfill!
What About Used Items Still In Good Condition?
For gently used items such as clothing, household goods, toys, books, computer accessories and small appliances (like toasters and blenders), Goodwill is a good choice.
Goodwill Industries
595 Hillsboro Road
Franklin, TN  37069
615-794-7704
1008 Nasdaq Street
Spring Hill, TN
615-3920-7766
Goodwill also has drop-off locations at the Fairview, Grassland, Thompson Station, and Trinity Convenience Centers, as well as the Wilson Pike Recycling Drop-off Center in Brentwood.
In addition to Goodwill, thrift shops are other great options for unloading such items. Plus, you can feel great about making them available for someone else to use who otherwise might not be able to afford them. (Thrift shops are also great places to find costumes for parties and items you can re-purpose.)
For that matter, these are great places to find incredible buys on kids clothing and coats, too!  My son grows so fast and is so rough on his pants, I've gone to Goodwill to buy jeans rather than pay $15 a pair for pants that he'll wear maybe 3 months and put holes in both knees!
Here are some thrift shop locations in Williamson County:
Habitat Renovations
7115 Bakers Bridge Road
Brentwood TN 37027
615-690-8090 x108 (donations)
Our Thrift Store
1018 Columbia Hwy
Franklin, TN 37064
615- 591-9613
Graceworks
104 Southeast Parkway (off Columbia Hwy 31)
Franklin, TN 37064
615- 794-9055

For additional recycling events and ways to participate in recycling in Williamson County, visit Keep Williamson Beautiful.
All in all, recycling is for EVERYONE in some form or fashion, so join me and let's do our part to keep Williamson County beautiful in every way possible!  After all, it's one of the many reasons I love living here.