---
We write about products and services that we use. This page may contain affiliate links for which we receive a commission.
These photos are posted mostly for our family's benefit.
I doubt anyone from outside of the family would find any of these interesting, but they're interesting and memorable moments to us…
Dylan's Dedication


Jim's brother, Steve, and his wife Lorrenna were living in Jacksonville, Florida when their first son (and the family's first grandchild) Dylan was born. Jim and I had just moved to Pensacola, Florida so we drove to Jacksonville for Dylan's dedication on August 8, 1999. (He was born July 18, 1999.)
A Reason To Go To Church


I hadn't been to church in years. Jim hadn't either. We would both go to church with our families whenever we were home visiting, but we never went on our own. This was our first time attending church together — for Dylan's dedication. It was your traditional Baptist church, and Jim was used to carrying his Bible any time he entered a church. (A habit he's continued for many years, regardless of the church's denomination.)
Tiny Little Dylan In Jim's Arms


Jim was delighted to have a new little nephew!
Getting To Know You


This was my first time meeting Jim's mom, Elouise. She came to Jacksonville for Dylan's dedication. Here, she's getting to know me very well by going through all of my scrapbooks and photo albums.
Yes Sir, That's My Baby


Steve is a proud new daddy, always eager to take his little bundle of joy out & about.
Can We Go Home Now?


Children certainly are a wee bit of Heaven that we can enjoy right here on earth on a daily basis… A gift from God. (Psalm 127) Here, little Dylan has had his fill of all the hustle & bustle of being dedicated at the Baptist church today.
Jim's Parents' First Time In Pensacola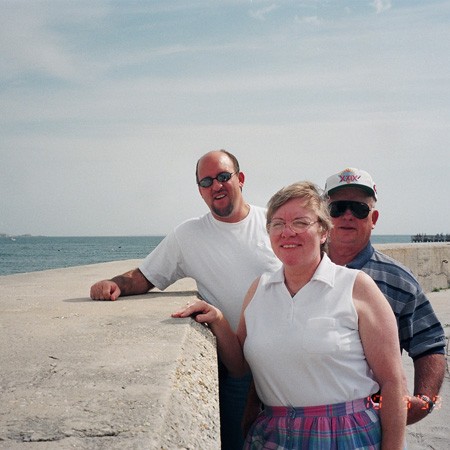 Jim's parents came to visit us in Pensacola, Florida. This was the first time I met Jim's dad. (I'd met his mom at nephew Dylan's baptism 2 months earlier.) Here, we're sightseeing around the beach, including Fort Pickens.
A Picture Perfect Day


His #1 hobby is photography. (That is, until he recently bought his first computer!…) He's got all the right lenses, all the right filters, all the latest gadgets, and now, even a digital camera.
Take Nothing But Photographs…


And leave nothing but footprints. Jim and his dad photographing the beauty of Pensacola Beach, including the picturesque sea oats and sand dunes.
Rockets, Planes & Other Flying Things


We all visited the National Museum of Naval Aviation in Pensacola when Jim's parents visited us. Jim's dad is a Navy veteran.
Jim's Team Is Winning The Football Game


Pops and Jim are enjoying a little football on TV. Go Dolphins!
Setting Up For Some Card Playing


Jim's mom is always up for some game playing. But Pops would rather watch than play, usually. This time, we talked him into playing Euchre with us. He had never played it before, and he did very well!
He's Got His Game Face On


Here Pops is strategizing his next move in our card game of Euchre.
Wish You Were Here…


Perhaps the only thing missing on our wedding cruise (December 5-8, 1999) were Jim's parents. Unfortunately, they couldn't get away at that time, and they were sorely missed by all.
Just Hangin Out


On our way back to Pensacola, after our wedding and honeymoon in the Orlando area, we stopped by Jacksonville to visit with Jim's brother, Steve, and his wife, Lorrenna, and their firstborn, Dylan.
Play Is Hard Work


Here's little Dylan getting some "tummy time" during our visit.
A Little Childish Fun


So many toys… So little time!
Festivating


Walking to the annual Seafood Festival in downtown Pensacola. Jim's parents visited us for a few days of "festivating" and "photographing" along the beaches of Pensacola, Florida.
Mom & Pops Had A Sunny Disposition


You can't see all beauty of the beachy sunset in this photo, but it was there in person. Jim's parents enjoying a little R&R on Pensacola beach.
Racing The Sun


The final photo of our amateur photo session on the beach at sunset. There's Jim wading in the water, as the sun goes down behind him — creating one of the most colorful sunsets we witnessed during our years in Pensacola, Florida.
The Annual Family Photo


Here, Jim's playing photographer trying to squeeze all 10-1/2 of us into one photo. (Lorrenna was pregnant with Shelby at the time.)
One Big Happy Family


The annual family photo, Christmas 2000. Left to right: Kathy, James, Benjamin, Elouise, Lynnette, Dick, Jim, Dylan, Lorrenna, and Steve. This was my first Christmas with Jim's family. (Our first Christmas together we didn't get to travel to see our families.)
We Are Family


Jim's brother, Steve with his wife Lorrenna and son Dylan. Little Shelby was born 2 months later on February 2, 2001.
Christmas Is All About The Kids


This year, Christmas was all about the kids. (As it should be.) Here, James and Benjamin (yes, they're twins) were thrilled to receive money and gift certificates!
Elmo Saves The Day!


One of Dylan's favorite gifts this year was little Elmo from Sesame Street. Here, Lorrenna is sharing in the excitement of the moment: unwrapping Elmo.
Kiss Me You Fool


One of the cutest things Dylan did. He went through this phase where he'd oh-so-lightly bring Steve and Lorrenna's chins together, encouraging them to kiss. Too cute!
Mega Toys & Stuffed Animals


Dylan got a lot of animated toys and characters this year, his favorites were Winnie the Pooh, Elmo, and Ernie. Ernie played the guitar and made a lot of noise.
Getting Into The Spirit of Christmas


Relaxing around the Christmas tree. Jim and his brother, Steve.
A Crying Shame


The holidays were busy days for Steve & Lorrenna's little guy, Dylan. Here, he's a bit fussy before his nap.
Snug As A Bug On A Rug


Dylan napping next to his "leggy" friend, Mr. Caterpillar.
Boredom Busters


Since Dylan's more interested in the TV than playing with Jim, Uncle Jim spends some quiet time with Mr. Caterpillar.
La-Z-boy


Dylan's starting to come around after his nap. A little bit of TV and a little bit of Uncle Jim gives him the boost he needs.
Let The Games Begin!


It's an annual tradition: The twins always play video games with Uncle Jim over the holidays.
Dylan's Playing With Uncle Jim


Steve's brother, sister-in-law, and 2 kids visited us in Nashville over the 4th of July. Here, Dylan's enjoying a game of "climb all over Uncle Jim".
Shelby's A Little Wiggly


Not quite up for playing with Uncle Jim yet, Shelby is a little squirmy in Jim's arms.
Today I Think I'll Be… A Computer Programmer


Dylan wanted to do anything Uncle Jim was doing. Here, they're playing on the computer.
Here's Lookin' At You, Kid


Jim and Shelby just hangin out around the house. This was our first time meeting Shelby – at 5 months old.
The Mamas And The Papas


Our parents didn't actually meet one another until a year and a half after we were married! Here, everyone gathered for our own mini-reunion at our house in Nashville, Tennessee.
In-Laws Meeting For The Very First Time


This was the first time that Jim's parents met my mom. This was in the living room of our Nashville house that opened up into the backyard/deck area.
Mom and Pops


This was the first time Jim's parents visited us in Nashville, Tennessee.
A Night On The Town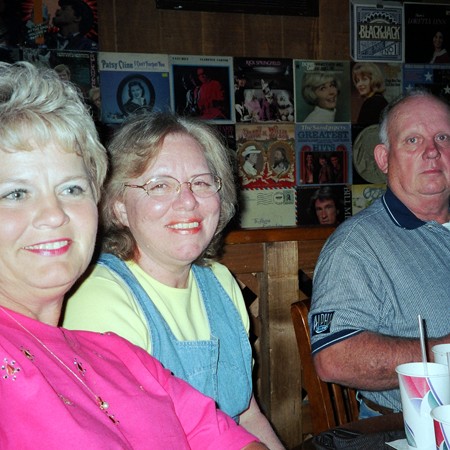 We thought we'd show our parents what Nashville's all about, so we took them downtown. We went in all the classic Honky Tonks on Broadway. They had fun!
Piece By Piece… It All Came Together


We sometimes start a puzzle when people visit, and everyone just adds to it whenever there's some down time. Here, Jim and his dad are contributing to the community puzzle this weekend.
Guy Talk


Dylan wants to do anything Uncle Jim is doing… here, it's wearing a baseball cap.
Child's Play


Dylan was enjoying using us as a human jungle gym… climbing over, under, and on top of us. We stopped by Dylan's house as soon as we got into town for the holidays.
Ehhhh? I Can't Hear You…


Little Shelby rarely fusses, but here she's a bit tired of having a constant ear ache.
Everyone Say Cheese!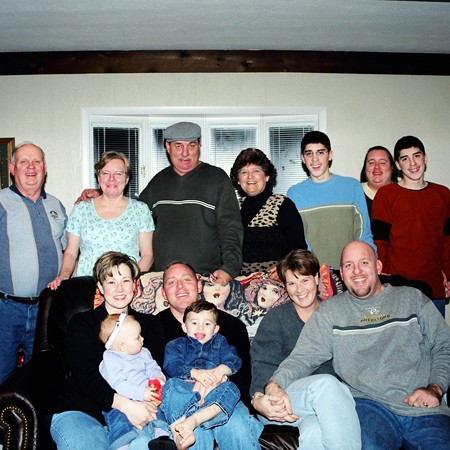 Here's the 2001 version of our annual holiday photo featuring Jim's side of the family. Left to Right: Dick, Elouise, Richard, Isis, Benjamin, Kathy, James, Lorrenna, Steve, Lynnette, Jim, little Shelby, and Dylan.
Here Comes Santa Claus


Jim's parents are pretty tight with Santa Claus, and they managed to arrange for Santa and one of his elves to stop by the house on Christmas Eve. Dylan wondered who let this strange character in the house. And he did everything in his power to keep his distance from Santa.
All I Want For Christmas Is Toys, Toys, Toys!


Little Shelby didn't give Santa Claus a second thought.
Has That Bearded Guy Left Yet?


No matter what, Dylan wasn't warming up to Santa Claus any time soon. In Dylan's mind, Santa belonged on the TV and in the mall… not in our house!
Have Yourself A Merry Little Christmas


Shelby is having the time of her life this Christmas.
Thank You, Thank You


Dylan: I won't sit on Santa's lap, but I will come out and play a song on my guitar for him. Here, Dylan is taking a bow after his solo performance.
Grandma's My Name, Spoilin's My Game


Shelby is always safe and sound in Grandma's arms.
High Five, Santa!


Alright Santa, you sat through my performance. Guess you're not so bad after all. This was the closest Dylan would get to Santa Claus.
These Boots Were Made For Walkin'


These are the rubber rain boots we got for Dylan and Shelby for Christmas. Too cute.
And To All A Good Night


Dylan in his PJ's at the end of a long Christmas Day. Here, he's singing to the Mr. & Mrs. Claus lighted musical figurines. (I like this picture because it looks like he's trying to blow out the candle that Mrs. Claus is holding.)
Mommy's Little Girl


Shelby and Mommy — tuckered out after opening all the presents and spending the evening with Santa.
I'll Tumble For Ya


Dylan found a spare tank of energy late into the night. Here, he's doing somersaults on the sofa next to Uncle Jim.
Home Sweet Home


Jim's parents came to visit us at our Franklin home between races where we were traveling a lot selling PitPass programs. It was a nice change of pace from being constantly on the go — to spend a couple of days back home doing "nothing".
Swatting Flies


Jim's mom did her darndest to rid our house of flies this summer! It was a really hot day, and they seemed to love all the fresh tomatoes that Jim's parents brought for us to enjoy.
Chess Anyone?


Jim's mom, the ultimate game player, took on Benjamin and James in a weekend chess championship.
Some Serious Chess Players


James and Benjamin take all games quite seriously. This was the weekend that they officially learned how to play chess competitively — as taught by their Uncle Jim at least.
A Game Of Patience And Concentration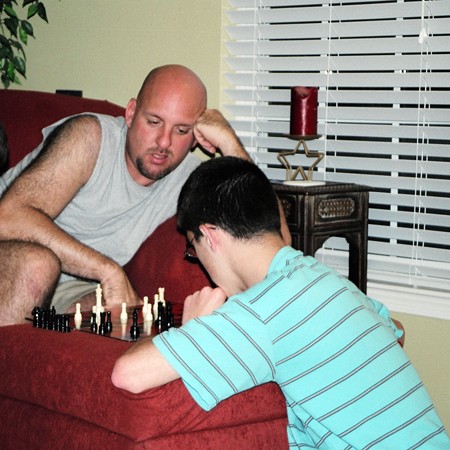 James and Jim were the finalists in this weekend's chess championship. Uncle Jim came out the victor… he's far too experienced. He even plays in some online chess championships.
Fixing The Attic Door


We are so lucky to have a lot of storage space on either side of the bonus room upstairs. It's over the garage, and each side has a walk-through door to the attic space. We also placed specially-made attic flooring (like plywood, purchased at Home Depot) along the entire floor space. Now we can store all of our stuff out of the way up there! Here, Pops and Jim are adding some fasteners to make it easier to open and close the door regularly, without the use of a door handle.
Hoppy Halloween!


Shelby wore a bunny rabbit costume this Halloween.
Dylan Dressed As A Fireman


Just like Grandpa (a retired fireman), Dylan dressed up like a fireman for Halloween this year.
Wild With Excitement


Dylan loves unwrapping gifts — his gifts, others' gifts, it doesn't matter. Anywhere there's a wrapped present, he'll ask if he can be the one to unwrap it.
Lorrenna And Shelby On Christmas Eve


The first stop on our holiday travel itinerary usually includes Jim's side of the family. Here, Lorrenna holds Shelby as she's waking up from a nap on Christmas Eve.
Enjoying Christmas Eve With Jim's Family


Christmas Eve 2002 in Ohio with Jim's family.
Rocking Each Other To Sleep


Neither Steve, nor Shelby was feeling very well this holiday season. Each had a touch of the flu. Little Shelby just wanted to be held and rocked.
Reliving Old Times Through Photographs


We got Jim's parents a "photo tower" for Christmas this year. It's about 4 feet tall and the front has places for about 6 different photographs in what appear to be "frames". Then, inside, there are lots of medium-sized photo albums in which to organize hundreds of photographs. The aim was to get their many years of pictures OUT of boxes and INTO albums — where others could share and enjoy them.
Organizing Photographs


Jim's mom was the most enthusiastic to begin the task of sifting through all the shoeboxes full of photographs they had stored down in the basement.
Holding Onto The Past


Jim's dad was a bit reluctant to change his method of organization for family photos. He was afraid we would toss some of his favorite photos out on accident. (He was thrilled the next year when we got him a photo organizing software program! Now, he could scan his favorite old family photos into his computer, as well as any digital photos he took from now on.)
Looking At Old Baby Photos


Benjamin and James were quite surprised to find old baby photos of themselves mixed in these boxes of old family photos! Kathy helped us organize all the photos into the albums by category.
The Excitement Of Christmas Morning


Dylan is excited to find us still there on Christmas Day. Of course, it's just another reason to play with all the new toys he received the night before. In the background, Lorrenna is rocking Shelby.
Playing Taboo


Somehow, we talked Steve into playing a game with the rest of us. We played Taboo — guys against the girls. Here, Lorrenna is watching to make sure Steve doesn't cheat and call out any of the "taboo words" for this round.
Cranium: Sculpting Things Out Of Clay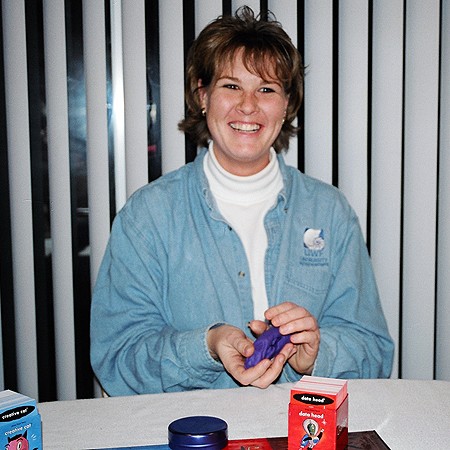 We also played Cranium — one of my favorite games. Here, I'm trying to mold something out of clay. Ultimately, my teammates have to guess what "word" I've sculpted.
Benjamin, Dylan and James


This was a rare occasion that we could get the twins together long enough to pose for a picture. We must've bribed them with food or something.
Dylan… Up Close And Personal


Dylan was enjoying plenty of face time with the camera this year. He's very photogenic… thanks to his own mom taking tons of pictures of him and sister Shelby.
More Cheerios!


Shelby didn't care about anything else but her mid-afternoon snack of Cheerios.
Shelby Needs A Little Milk For Those Cheerios…


Here Sherry is hooking up a cow to the milking machine… ouch! It was a very messy environment — you had to slosh through alot of mud and spilled milk before the day was done. Sherry's job is to streamline the milking process on the farm.
Danny Talking Milk


Danny (Sherry's husband) is prepping Jim on the rules & procedures (cough cough) for milking the cows. Or, he's just shootin' the [email protected]#* with Jim, more than likely.
Steve, Lorrenna & Family


Jim was in Ohio for business in June, 2003. He took a lot of great photos of Steve, Lorrenna, and the kids.
With Open Arms


Dylan welcomed Uncle Jim into town with open arms.
Shelby's Stickin' With Daddy


Shelby wasn't so sure she wanted to play with Uncle Jim in the front yard… not without Daddy by her side.
Dylan Playing In The Front Yard


Dylan playing in the front yard at grandma and grandpa's house.
A Little Childish Fun


Lorrenna and Shelby playing in the front yard at grandma and grandpa's house.
Pretty In Pink


Shelby's as cute as can be…
Strong The The Finish Cuz He Eats His Spinach


He's been every superhero from Spiderman to the Incredible Hulk (for Halloween), but Dylan's SUPER in his own right. And just look at those muscles!
Flower Girl


Shelby's enjoying the beautiful outdoors, while she's skipping among the flowers.
Elouise Keeping Score In A Card Game With Kathy


Elouise is enjoying a card game with Kathy.
It's In The Cards


Jim's sister, Kathy, playing cards with Jim's mom.
Asleep In The Saddle


Exhausted from playing with Uncle Jim all day, Shelby fell asleep in her high chair while snacking on some munchies.
UPDATES:
Shelby's Story: Living With Autism
We moved from Florida to Tennessee in 2001. All signs point to the fact that we will probably retire here — by choice. We L O V E Nashville! Our favorite places to live are just south of the City — we've had houses in Brentwood, Franklin, and Spring Hill. And we have properties in Leipers Fork, Cookeville, and Lewisburg. This site is where I share my best tips for moving your family to Nashville and/or visiting Nashville for the first time — with the ultimate goal of helping you find fun things to do in Williamson County and Davidson County. When I'm not out & about enjoying the Nashville area, you'll find me at the corner of Good News & Fun Times as publisher of The Fun Times Guide (32 fun & helpful websites). To date, I've written over 500 articles on this site! Many of them have upwards of 100K shares.