This post may contain affiliate links. If you buy thru these links, we may earn a commission at no additional cost to you.
---
The following summarizes my experience the other day when I went to the Williamson County driver license branch to renew my Tennessee driver's license. (IMPORTANT: See the updates at the very end of this article!)
You've probably heard the horror stories. I've always wondered if they're true:
how time-wastingly awful the entire experience is
the lines
the moody state employees who aren't happy in their jobs
the cramped quarters where you sit & wait forever
and so on
Those are some of the stereotypes I've heard through the years.
So I thought I'd share my experience of what it's really like to get a drivers license here in Tennessee. Perhaps some will find this information helpful (or at least comical).
Hint: It's a lot easier (and quicker) than you'd think!
How To Renew Your Drivers License
Jim was one of the lucky ones… His driver's license expired in March and he was allowed to just send in the renewal fee, upon which they mailed him his new license (same picture, new expiration date).
I was less fortunate… in a sense. Because of a new law that went into effect on July 1st, I had to physically visit the driver license branch, and present my birth certificate (or Social Security card) AND my old license.
If you didn't bring the notice they sent you in the mail, then you also had to fill out another application. Of course, I had mine… AND my voter's card, AND a copy of my last utility bill (just in case I needed to prove residency or something — I wasn't taking any chances).
What I didn't have on me was my checkbook!
Checks? Who carries checks these days??? I'm thinking: "I don't even know where our checkbook IS!" I'm kindly told: "Sorry, only cash or checks." (The odds of me having cash at any given time are even less than the odds of me knowing where our checkbook is!) UPDATE: They take credit cards now.
Okay, But How Did Your Picture Turn Out?
For years, I've secretly wished that I could change the photo on my OLD driver's license. I'm not the only one who wants to look good on their driver's license photo, am I? I mean, you at least want to look respectable enough for the "ID of all ID's" — the one you're forced to carry around for the next FIVE years — right?
By the looks of the other ladies in the driver's license branch on this day, I'm guessing I'm not alone. The dudes all seemed comfortable with their "as is" appearance (like having walked in straight from the construction site, or sweaty with kids in tow on a dad's day out).
On the other hand, the girls had:
…freshly pressed colorful shirts
…big BIG hair
…at least one visit to the restroom each to check on their "look" while waiting
…hands that kept stroking their hair hoping for a more "natural, windblown look" when it came time for the actual photograph
…you get the idea.
But I guess I was right there with 'em because I stressed a bit that morning over the all-too-few possibilities of things you can do with an overgrown hairdo that hasn't been trimmed in ages, is fried on the ends (from far too many Jeep rides and using far too little conditioner), and still shows traces of a year-old perm…
Any hopes I had for a "do" that would last were dashed when I…
…braved the high winds and rain upon entering the Drivers License Branch (the first time)
…raced back to the house to try & locate our checkbook
…arrived at the license branch for the 2ND time, having barely beaten the lunch-hour rush-hour
All this, and I still managed to get there (the 2nd time) by 10:30 a.m.!
What's The Driver License Process Like?
There wasn't much of a line. One person was taking the complete driver's test, and another was being given his results. Most were brand new Williamson County residents who were getting their first license in Tennessee. They each had to take the eye test. (I didn't.)
When you walk in, you're printed out a number that's prefaced by an A (renewal), B (new license) or C (drivers test — I think). Then you sit and wait. My wait was under 10 minutes. When a worker is ready for the next person, they hit a button, and a digital voice comes over the speaker asking the person with that number to step to the counter.
You give them your old license, show your birth certificate, and hand over $19.50, then they send you to the "blue wall" to have your picture taken.
Girls, there's no mirror there, but if you look real close, you can use the reflection from the lens of the camera to prepare for your big moment. Only if your eyes are closed will they take a second photo.
So, in the end, my photo barely looks like me (…especially since the "real" me is usually wearing a ponytail). Like the ladies before me, my photo reveals the "big", freshly tousled hair, and I just noticed I was wearing a freshly pressed bright colored shirt too. (My biggest moment of joy came when I realized how well it complimented the funky shade of blue they used for the background.)
The good news?… At least the Listerine Pre-Brush Whitening Rinse appears to be working!
Unique Experiences At The Williamson County Drivers License Branch
I was in line with Dave Ramsey. After he left the building, one worker said to another: "You know who that was, right?" The other wasn't impressed. He said "I just treat them all the same…" Then he told me of his run-ins with the likes of Lily Tomlin, Diana Ross (or was it Donna Summer?… maybe even Dionne Warwick — I get all those "D's" from the 80s confused!).
I said, "HERE?!" To which he quickly replied, "No, when I worked at Kinkos for years." (Personally, I'd have thought one would have better chances of seeing such people at the driver's license branch than at the Kinkos, but he knew it to be true… so I'll take his word for it.) Then he added that he had also processed the driver's licenses of the Judds.
Guess I'll have to add "county offices" to my list of places to see celebrities around Nashville!
So, I am happy to report that my experience with renewing a drivers license in Tennessee — specifically in Williamson County — was quite pleasant on all counts.
I would strongly recommend visiting this branch if you live in Williamson County. Oh wait, you have no choice… there's only one branch in Williamson County.
About The Williamson County Drivers License Branch
While there are 4 drivers license branches in Davidson County alone, there's only 1 in Williamson County. Which must explain why there's always a long line
of people that winds down the sidewalk and into the parking lot each morning on my way to work! Luckily they're open early (7:00am), and kind of late (5:30pm), but from the looks of things, most try to take advantage of the early morning time slot, so I'd recommend not going at that time.
I was there at 10:30 a.m. on a Friday, and one of the workers even commented how that was a good time to come, adding that normally this place is crazy busy from open to close. If I were going again, I'd pick 10:30-11:00 a.m. or 2:00-3:00 p.m.. Oh, and don't try going on a Monday… they're closed on Mondays!
Actually, I want to compliment all of the individuals who were working at this particular driver license branch — from the lady who greeted me and printed out my #A21 (which probably means that 20 other people had gotten renewals up til my arrival at 10:30 a.m.), to the one who processed my renewal (Essam), and the one who had a firm command of the Spanish language (Mike) and was called on to assist a number of people. Props to you all for helping to make this process easier and more enjoyable than I'd envisioned.
All Tennessee Driver License Branches
Everything you need to know about driving in Tennessee …from the Tennessee Department of Motor Vehicles (DMV)
What I Learned Today:
Do some states call it a "driver's license"? I'm wondering if that's just something I picked up in Indiana, Texas, Ohio, or Florida… Because it just doesn't seem right to call it my "driver license" or to say I'm going to the "driver license branch" — despite the fact that's what the state of Tennessee calls it. Hmmmmm….
UPDATE 12.06.06:
Finally!… The brand new Williamson County Driver License Branch opened up yesterday It's located at 4248 South Carothers Road in Franklin, TN. From the article in the Tennessean: "The station is expected to continue serving 3,000 customers a month. While there are more places to park, wait and take written exams, the number of examiners hasn't changed. There are seven examiners slated to work at the new station."
UPDATE 09.24.15:
Thankfully, the process is so much different these days! I went in to renew my Tennessee driver license today and all I had to do was walk up to the next vacant kiosk and spend 2 minutes updating my address and standing still for a photo. You start by placing your current drivers license on the kiosk table with the barcode facing upwards. Then the kiosk walks you through all the steps. You do everything yourself! The kiosk prints out a receipt (after your pay the $17.50 + $2.00 kiosk fee) with your new picture on it. They say you'll receive your new license within 2 weeks. One tip: You get only 1 chance to re-take the photo if you don't like how the first one looks. My advice is to step back a teeny bit further than the yellow footprints they want you to stand on for your photo. (There's no one watching.) Otherwise, if you stand right on the footprints, your photo is pretty much "all face" and no background — like mine turned out. I wish I had stepped back a half-step to get a little bit of neckline and shirt collar in the photo.
Here's a map of the Williamson County driver license branch: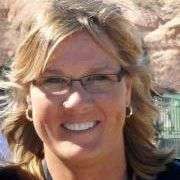 We moved from Florida to Tennessee in 2001. All signs point to the fact that we will probably retire here — by choice. We L O V E Nashville! Our favorite places to live are just south of the City — we've had houses in Brentwood, Franklin, and Spring Hill. And we have properties in Leipers Fork, Cookeville, and Lewisburg. This site is where I share my best tips for moving your family to Nashville and/or visiting Nashville for the first time — with the ultimate goal of helping you find fun things to do in Williamson County and Davidson County. When I'm not out & about enjoying the Nashville area, you'll find me at the corner of Good News & Fun Times as publisher of The Fun Times Guide (32 fun & helpful websites). To date, I've written over 500 articles on this site! Many of them have upwards of 100K shares.