This post may contain affiliate links. If you buy thru these links, we may earn a commission at no additional cost to you.
---
These photos are pretty much only being shared to document our changes in hairstyles (he he) and for our family's sake. Yeah, they actually enjoy looking at old photos from our fun times.
For anyone else who happens to see this page, there's probably nothing worth seeing here. Sorry.
The following photos are fun memories that I still refer to frequently from the days when we were dating. At the time, I lived in Orlando and Jim lived in Jacksonville…
Bar Hopping On Jax Beach


Since I lived in Orlando and Jim lived in Jacksonville, we spent a lot of time traveling between both cities. Here, we're bar-hopping along Jax Beach, pretty much stopping at any place that had live music. You'll notice there are 2 beers on Lynnette's side, and 1 beer on Jim's. That's how it usually goes: Lynnette has 2 beers for every 1 of Jim's. In fact, if you ever see Jim with a beer, it's simply his "obligatory drink" and he's not really enjoying it, because he prefers "the wild bird" (Wild Turkey 101) over beer – always!
Strumming Chords & Singing Songs


One of the first things Jim did the first time he took me to see his apartment was play the guitar for me. Here, he's strumming some chords to a James Taylor song. His next musical move was the day he left a message on my answering machine where he was singing the words to "Crush" by Dave Matthews. If you know Dave Matthews tunes, then you know they're not easy to sing and they cover a wide variety of musical ranges. ('Nough said.)
You Can't Crash In The Garage…


I've always liked motorcycle riding, and I've tried to talk Jim into buying a motorcycle for years. But, this is the closest we've come… sitting on our friend Pat's Harley parked in his garage. Jim just doesn't think they're safe. He thinks there are too many close calls with motorcycles out there on the road. UPDATE: Now, 11 years into our marriage and Jim's the one wanting a motorcycle! Yay… someday soon.
Bike Week at Daytona Beach


Since he knew I liked motorcycles, Jim asked if I would be interested in checking out the activities in Daytona Beach during Bike Week. (Now, I think it was probably an attempt to get motorcycles out of my system once and for all.) I'd never been so I said, "Sure." Mostly Bike Week consists of bar-hopping day and night.
Lots To See & Do In O-Town


Back in Orlando… We went to all the theme parks, including Walt Disney World's Magic Kingdom, EPCOT, Disney's MGM-Studios, and Universal Studios. Some of our favorite places in Orlando (for one reason or another) were:
Wet & Wild Rides


The water rides were our favorite rides at the theme parks. Our least favorite? Well, for Jim it was the "Back to the Future" ride. (He likes roller coasters even less than I do!) It was just a simulator ride, and the car wasn't even enclosed, but the constant motion seemed to make Jim turn green. We took a lesson from this experience when planning our wedding cruise!
Trying My Hand At Golf


It must've been love… Jim even got me to try my hand at golf! My mom's been trying to get me to play for years… no, decades! While I didn't actually play one hole, I did hit a few balls at the driving range. Jim says I did pretty good (but compared to what?).
I'm Done Now…


Knowing that golf's not my game, I was thrilled when Jim let me call it quits after hitting just a dozen or so balls. And I've never "golfed" since.
Floating Downstream Ichetucknee Springs


Here we are tubing at Ichetucknee Springs. It was a nice, relaxing day spent floating downstream …slow and easy. I really like tubing!
Slower & Easier…


Taking a break from the slow & easy kind of day we're having tubing at Ichetucknee Springs.
Canoeing Florida's Lakes


When we first started canoeing together, Jim always accused me of not doing my fair share of paddling. (I didn't realize just how hard he was paddling!) We spent many weekends canoeing the lakes of Florida — some of the most pristine water in the country.
So, Who's Doing All The Paddling Again?


Guess Jim's not always paddling… at least not when he's reaching for a refreshing beverage! Here, Jim's taking in the beautiful scenery while we're canoeing one of Florida's beautiful lakes.
Anyone Got A Toothpick?


One of the last things we did in Orlando (before we moved to Pensacola) was attend the Zellwood Corn Festival. Because, hey, who doesn't like corn-on-the-cob?
Roses… And More!


Jim frequently brought me flowers — from Day One. There was a little old lady in a pickup truck that always sold them out of her car at this one place between Jacksonville and Orlando. He was a regular.
Jim's A Great Cook!


Jim loves to cook. And he's pretty good at it too! Here, he's cooking dinner as a surprise for me after work one day. Whenever he had appointments in Orlando, he would usually have dinner with me before heading back to Jacksonville.
Jim Tries To Get On Jersey's Good Side


Jim figured out very early that he needed to get on Jersey's good side if he was going to get anywhere in this relationship. He started out by bribing Jersey (who doesn't like strangers) with handfuls of Puppy Pepperoni at each visit! It worked. Jersey figured if he spoils me with treats and takes me for walks beyond the bottom step of Lynnette's apartment, he must not be all bad.
Where's Joe?…


Suzie flew in to Orlando for a week, and we spent one evening out on the town with Jim. He took us to Joe's Crab Shack and Saks Comedy Theatre. It was a lot of fun, and this was the night I realized that Jim is "the perfect gentleman" all the time. He opens doors for me, he's respectful of my friends, and my friends like him.
In The Company Of Friends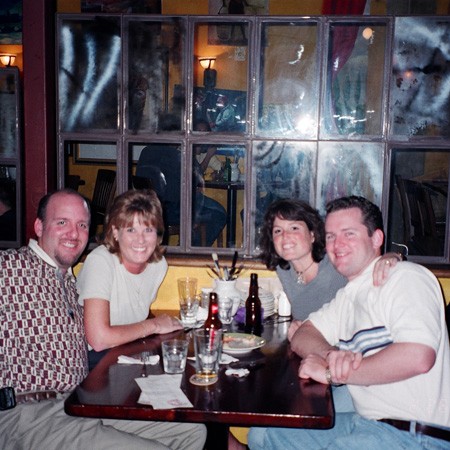 We hung out with my UCF co-worker Aimee and her husband Dave quite a bit. Here, we were at Cafe Tu Tu Tango in Orlando (also known as the Artist's Cafe). It's really cool, and artsy-fartsy. There's unique art all over the walls, and you're basically served huge portions of hors d'oeuvres — like samplers — for everyone at the table to partake in. I don't even think they have entrees. We also have fond memories of the 4 of us at a Japanese Steakhouse, a UCF golf event, and at Dave and Aimee's wedding in March 1999 right before we moved.
Good Friends Make Good Times Even Better


Here we are, all showing our pearly whites on Aimee's wedding day. Co-workers and friends: Darla, Aimee, and Lynnette.
Steamed Oysters, Anyone?


For the 6 years I lived in Orlando, my dad would pass through each and every February to watch the Daytona 500 races. This is the night Jim met my dad for the first time. We all met at this Oyster Bar near the fish camp where Dad was staying in Tavares, Florida.
It Was A Steamy Night


This was our first time eating steamed oysters. Blech!
A Reason To Go To Church


I hadn't been to church in years. Jim hadn't either. We would both go to church with our families whenever we were home visiting, but we never went on our own. This was our first time attending church together — for his nephew Dylan's dedication. It was your traditional Baptist church, and Jim was used to carrying his Bible any time he entered a church. (A habit he's continued for many years, regardless of the denomination of the church.)
Here's the story of how we met and got married within 8 months.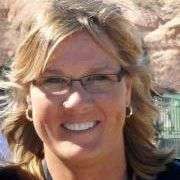 We moved from Florida to Tennessee in 2001. All signs point to the fact that we will probably retire here — by choice. We L O V E Nashville! Our favorite places to live are just south of the City — we've had houses in Brentwood, Franklin, and Spring Hill. And we have properties in Leipers Fork, Cookeville, and Lewisburg. This site is where I share my best tips for moving your family to Nashville and/or visiting Nashville for the first time — with the ultimate goal of helping you find fun things to do in Williamson County and Davidson County. When I'm not out & about enjoying the Nashville area, you'll find me at the corner of Good News & Fun Times as publisher of The Fun Times Guide (32 fun & helpful websites). To date, I've written over 500 articles on this site! Many of them have upwards of 100K shares.