This post may contain affiliate links. If you buy thru these links, we may earn a commission at no additional cost to you.
---
Puckett's Grocery is a little country store that's located in the trendy suburb of Franklin, Tennessee called Leiper's Fork (20 miles southwest of Nashville).
They sell a lot more than just groceries at this grocery store.
They also have shrimp, deli sandwiches, t-shirts — and lots & lots of live music!
Music & Memories Among The Zucchini
Not only can you scoop up a good deal on groceries at Puckett's in Leipers Fork, but you can also catch some pretty amazing live musical performances there on Friday nights.
And we're not just talking about no-names here. We're talking some of the most talented songwriters in and around Nashville… those who penned all the hits you hear on the radio today!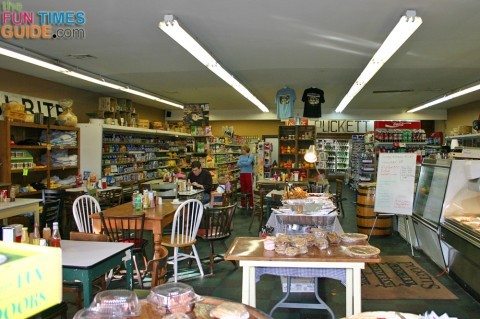 Similar to the ever-popular Bluebird Cafe in Nashville, the live music nights at Puckett's feature singers and songwriters "in the round" with the musicians sitting and strumming on their guitars, sharing stories about how each song came to be and the true meaning behind the words.
Different from the ever-popular Bluebird Cafe is the fact that at Puckett's you can choose your munchies right from the store shelves that surround you!
And, those who forget to call ahead for reservations don't mind standing in the bread aisle, the chips aisle, or the canned vegetables aisle to watch the entire show.
Andy Marshall bought the Leiper's Fork Puckett's Grocery in 1998. "We were serving everyone from songwriters to business moguls to country folk. People would come from all around-even hop off a plane from LA-to get a Puckett Burger. Before long, I realized what I have here is a restaurant pretending to be a grocery store." In 2002, Puckett's branched out to start a formal dinner and music program. With all of the talented writers in and around town, the Friday night writers' show grew fast with folks coming from all over to hear some of the finest that the industry has to offer in a cool, eclectic environment.  Source
Here's more about Puckett's history.
A Songwriter's Haven
Unless you've been around the songwriters in Nashville for awhile, then don't be surprised if you don't know the musicians who are on the bill by name. The fact is, you will definitely know their songs! And you'll quickly come to realize — and appreciate — the amazing talent that lies beneath the songs you hear on the radio every day. The same can be said for the songs they sing that just haven't been "picked up" yet my major artists.
Living in the Music City capitol of the world, there's certainly no shortage of places to hear good music in Nashville these days. But we're so glad that Puckett's has chosen to think outside the box by filling their aisles of their grocery store with music writers, singers, and fans alike.
If you have an appreciation for music, then you won't be disappointed.
Here's the Leipers Fork Puckett's music calendar.
Great Food Too!
As if that's not enough, Puckett's in Leiper's Fork also serves as a quaint small town diner, providing everything from deli sandwiches to full-course meals for regulars and passersby daily. They always have unique holiday meals as well.
If you haven't been to Puckett's for their food yet, and you like seafood, then you must stop by on a Saturday evening when they feature all-you-can-eat shrimp boil for a low, low price!
Going to Puckett's primarily for the music on a Friday night? You might want to make reservations and get there early to enjoy their 4 course, sit-down dinner (plus, that's how you get the best seats for the show). The food is always great, but – no – you don't have to have dinner there. You could go just for the show as well!
UPDATE: Change Is Good
In 2008, Andy Marshall sold the Leiper's Fork Puckett's to Rob and Shanel Robinson.
The Robinsons have continued Puckett's award winning ways at the Leipers Fork location, maintaining the authentic Puckett's food and music.
Leipers Fork TN - Pucketts Grocery + Restaurant
Marshall has been devoting all of his attention to building new Puckett's locations in Franklin TN, Nashville, Columbia TN. There's even a second Puckett's location in Franklin now called Puckett's Boathouse. Oh, and let's not forget the new Puckett's Trolley! (Details below.)
Puckett's Grocery and Restaurant is Green!
Franklin Puckett's
In 2004, the owner of the Leiper's Fork Puckett's, Andy Marshall, opened a second part restaurant / part grocery store / part music venue establishment called Puckett's in the little town of Franklin, Tennessee where we live!
The Franklin Puckett's is located on Fourth Avenue in downtown Franklin, bringing even more fun flavor to the quaint little downtown square of Franklin. That's where cafe tables & chairs line the streets, catering to the trendy clientelle and oh-so-hip residents who live in the area.
I've been there several times — for both the food and the music. It's a fun place to take friends and family when they're visiting!
If we're lucky, they'll keep the Franklin After Hours shows on Saturday night, and the Leiper's Fork After Hours shows on Friday night — allowing everyone to have the best of both worlds by filling the entire weekend with live music at Puckett's!
Here's the Franklin Puckett's music calendar.
Nashville Puckett's
In 2010, Marshall opened the downtown Nashville Puckett's location at the corner of 5th Avenue and Church Street.
It's a larger than the Franklin Puckett's.
I've been there several times for the food, but I have yet to catch a live music event there.
It's very highly rated by others — for both the food and the entertainment.
If you've got an event coming up, Puckett's is well-known for their catering services too!
Here's the Nashville Puckett's music calendar.
Puckett's Trolley
Puckett's also created Nashville's first ever food trolley. It's not just a food truck… it's a food trolley!
Affectionately named Trolley Parton, the Puckett's food trolley is used as a food truck and for catering events.
Often seen in and around Franklin, Tennessee, it's so unique, the Puckett's trolley was even featured on the Cooking Channel's Eat Street!
Founded by the Puckett family in the 1950s, Puckett's has served as a country store to several communities in Williamson County. Andy Marshall bought the Leiper's Fork Puckett's Grocery in 1998. In 2002, Puckett's branched out to start a formal dinner and music program. With all of the talented writers in and around town, the Friday night writers' show grew fast with people coming from all over to hear some of the finest the industry had to offer. Shortly after, the Marshall's expanded to Historic Downtown Franklin. Rob Robinson and his family now own the Leiper's Fork location, while the Marshall family opened the first downtown Nashville location in November 2010. Source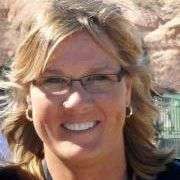 We moved from Florida to Tennessee in 2001. All signs point to the fact that we will probably retire here — by choice. We L O V E Nashville! Our favorite places to live are just south of the City — we've had houses in Brentwood, Franklin, and Spring Hill. And we have properties in Leipers Fork, Cookeville, and Lewisburg. This site is where I share my best tips for moving your family to Nashville and/or visiting Nashville for the first time — with the ultimate goal of helping you find fun things to do in Williamson County and Davidson County. When I'm not out & about enjoying the Nashville area, you'll find me at the corner of Good News & Fun Times as publisher of The Fun Times Guide (32 fun & helpful websites). To date, I've written over 500 articles on this site! Many of them have upwards of 100K shares.