---
This post may contain affiliate links. If you purchase through these links, we may earn a small commission at no additional cost to yourself.
---
I travel up and down the Natchez Trace Parkway a lot. (Talk about a cheap form of therapy!)
A few weeks ago I noticed a couple of flagmen and some bulldozers caught up in a bustle of activity on the Trace, near the Highway 96 Exit.
A couple days later, I noticed lots of trees missing, and some freshly laid gravel — as if, in parking lot fashion. This was all taking place just off the road (on the righthand side, heading South on the Trace), so it's obvious that something new is going to appear there very soon.
I got the scoop!…
What The National Parks Service Is Saying
A phone call to the Natchez Trace Visitor's Center got nowhere fast, until I was eventually passed on to a Mr. Earl Scott at the Center.
He checked with all the right people and relayed to me that "they're putting in an access ramp at Milemarker 437 on the Natchez Trace Parkway in Williamson County Tennessee. It will take 4 months to complete. It's in cooperation with the National Parks Service and Williamson County."
Why? (…I asked)
"It's for a proposed Williamson County Park."
Woooo hoooo! That's pretty cool. That we're going to have a park you can access to & from the Natchez Trace Parkway sounds pretty fun, right? And what a perfect location — if you ask me.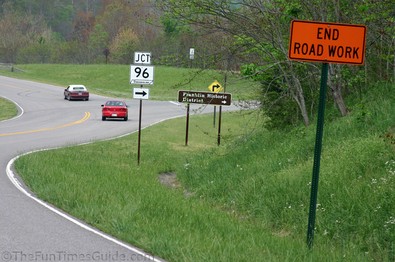 What They're Saying At Williamson County Parks & Rec
A phone call to Williamson County's Parks & Recreation Department led me to Ms. Kerri Nichols who is the PR Coordinator for Williamson County Parks & Rec.
She was out of the office today. I'll post an update here after I speak to her in the next day or two.
UPDATE: I left a message with Bob Feinstein from Williamson County Parks & Rec. Here is the reply he left on my voicemail:
Right now the county is only building an exit off of the Parkway, as you noticed. At this time, an architect or "plan" has not been put in place for what will be Phase 2. Also, there is no funding for Phase 2. But one of the thoughts is for us to have some type of Interpretive Center and tag the native trees and plants and possibly have a walkway through some of the property. It will just be a passive area. That is where we are right now… just in the discussion stages and it hasn't gone much farther than that at this time."
[Thanks for getting back to me so quickly, Bob! Much appreciated.]
More About Williamson County's Newest Park
By the looks of things, this new park near the Natchez Trace Parkway in Williamson County Tennessee has been in the works since March 2001.
From the press release:
U.S. Rep. Bart Gordon is seeking federal money to build a new road from the Natchez Trace Parkway in Williamson County to a 72-acre park that local officials want to develop next to state Route 96 just west of Franklin. Gordon has asked for $350,000 in federal funds to build the access road. He is also seeking $300,000 in federal funds to study the viability of building a visitor center at the northern end of the Natchez Trace Parkway."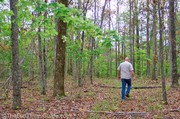 For More Information
The folks at the Natchez Trace Visitor's Center are always very nice and willing to find the answer to every question I've ever thrown their way. I highly recommend them for basic information about the park. They're available during regular business hours at 800-305-7417.
Kerri Nichols Bob Feinstein appears to be the lead contact for this particular park in Williamson County. He can be reached through the Williamson County Parks and Recreation Dept. at 615-790-5719 ext. 15.
UPDATE 8/9/07: The Exit Ramp Is Completed
Well, it looks like they're done with the ramp/exit part of the deal. I drove by that area a couple of times last week and here's what I saw:
On August 3rd, they were in the final stages of paving the ramp exit which is
supposed
to lead to a new Williamson County Park.
And today… it looks like the work is completely done now. That's nearly
a month
earlier than projected! This exit, near milemarker 437 on the Natchez Trace Parkway, consists of a smooth paved road road that winds way back to the forest's edge — presumably where the park is projected to begin.
Here's the view a couple weeks later…
We moved from Florida to Tennessee in 2001. All signs point to the fact that we will probably retire here — by choice. We L O V E Nashville! Our favorite places to live are just south of the City — we've had houses in Brentwood, Franklin, and Spring Hill. And we have properties in Leipers Fork, Cookeville, and Lewisburg. This site is where I share my best tips for moving your family to Nashville and/or visiting Nashville for the first time — with the ultimate goal of helping you find fun things to do in Williamson County and Davidson County. When I'm not out & about enjoying the Nashville area, you'll find me at the corner of Good News & Fun Times as publisher of The Fun Times Guide (32 fun & helpful websites). To date, I've written over 500 articles on this site! Many of them have upwards of 100K shares.