This post may contain affiliate links. If you buy thru these links, we may earn a commission at no additional cost to you.
---
Jim and I met when I was living and working in Orlando, Florida.
At the time, he was living in Jacksonville, Florida but traveling quite a bit to Orlando for work.
Here's more about how we met and got married withing 8 months, along with some photos from when we were dating (right before we moved to Pensacola, Florida together).
Following are photos from 2 of our big moves: from Orlando to Pensacola. And then from Pensacola to Nashville, Tennessee (which is where we live now).
Enjoy!
Pensacola Or Bust


We drew our dreams in the sand when we inscribed 'Pensacola or Bust' on the shoreline the day we decided to pack up and move from Orlando to Pensacola together. Jim had just accepted a job with Gannett Offset, and I was up for a new challenge career-wise. Pretty much, I was up for anything! This move was a very exciting time for me.
Moving All Of Jim's Stuff


First, we loaded up Jim's stuff at the apartment he shared with his brother in Jacksonville. The thing to note here is… all of Jim's things fit in the back of the smallest trailer that U-Haul provides. And there was room to spare!
Moving Day At My Orlando Apartment


I had 6 years worth of stuff crammed into my small 1-bedroom apartment in Orlando. There were boxes everywhere, and it took literally hours to get everything carried down 3 flights of stairs!
Why Is He Smiling?


How Jim mustered up the energy for a smile at this point is beyond me. After 9 hours and 45 trips up 3 flights of stairs, we were finally DONE! We all went for one last refreshing swim in the pool at my apartment.
Beat Red…


We couldn't have done it without Jim's brother, Steve, helping us move all of my stuff out of my Orlando apartment!
A Job Well Done


The guys did a whole lot more than I did on packing & moving day. They loaded up a huge Ryder truck with all of my belongings, and traveled up and down 3 flights of stairs each time to do it!
Line-up Of Vehicles Involved In The Move


These are all of the vehicles involved in our moving day swap of boxes, clothes, crates, and appliances.From the far right:
Jim's Ford Explorer was used to pull the small U-haul trailer to move Jim's stuff from his Jacksonville apartment to my Orlando apartment. (We emptied the contents of the trailer & returned it, so I could drive the Explorer to Pensacola — with my dog Jersey inside.)
The big yellow Ryder truck was used to haul my many items (and Jim's scant belongings) from Orlando to Pensacola.
The car trailer was attached to the Ryder truck to haul my Isuzu Rodeo on the trip. Jim drove the truck and trailer all the way to Pensacola without incident.
Is This All There Is?


Believe it or not, the full-size 6x7x26 truck still wasn't quite big enough to hold all of my stuff. Thank goodness we both had SUVs that we could load all the extra odds & ends in — because there definitely wasn't any room left in the Ryder truck!
Big Yellow Ryder Moving Truck


This was the big yellow Ryder moving van we used to relocate from Orlando to Pensacola on 5/31/99. Then 2 years later (on 4/26/01), we  moved from Pensacola, Florida to Nashville, Tennessee — with our dog (pictured here) of course. We moved into a rental home  for a year until we built our first home together.
Moving Day: Pensacola To Nashville


Everything's packed and stacked in the garage. We're just waiting for the movers to come and load it all up. Jim took a new job with Ambrose Printing in Nashville, and they paid for our move.
Hitchin' A Ride


Our dog Jersey has always been a trooper through all of these moves. First, he moved from his birth home in Albany, New York to Saranac Lake, New York to live with me. Then, we moved from there to Orlando, Florida together. Next was our move with Jim to Pensacola, Florida. And finally, this move from Pensacola to Nashville, Tennessee. He has always adjusted just fine to his new surroundings. I swear, he can tell when the actual moving day is here. He gets real ansty and he eagerly jumps in the car to wait til it's time to leave. This time it was destination: Nashville, Tennessee!
Welcome Home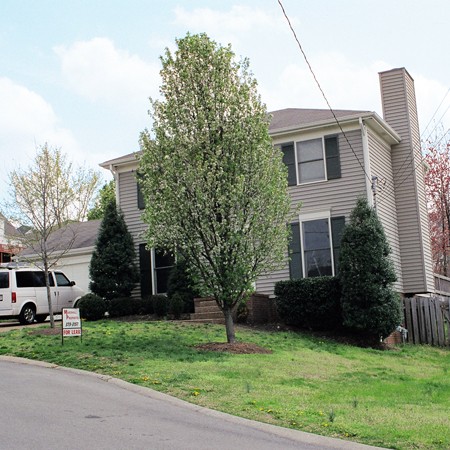 When we moved to Nashville, we rented this house in Brentwood, Tennessee. It was really close to I-65, so Jim's commute to and from work was barely 20 minutes. The only bad part: the landlord wasn't ready for us on move-in day, and the inside was a wreck! (This despite the fact that we had pre-arranged our move-in day with him and he said the place would be ready.) The kitchen floor was tore up, the doors were off the hinges, and the cleaners and painters were inside hard at work. Our new house wasn't "just ours" until about a month after we moved in! There were repair men coming and going that entire time.
Bringing It Home


Despite the fact that the rental house wasn't quite ready for us to move in, we had no choice but to let the movers unload everything. We worked with the landlord the best we could, but it was quite an inconvenience working around his "repairs" for about a month.
A year later, we moved into this home we built in Franklin Tennessee.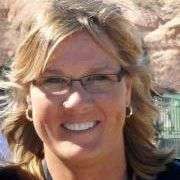 We moved from Florida to Tennessee in 2001. All signs point to the fact that we will probably retire here — by choice. We L O V E Nashville! Our favorite places to live are just south of the City — we've had houses in Brentwood, Franklin, and Spring Hill. And we have properties in Leipers Fork, Cookeville, and Lewisburg. This site is where I share my best tips for moving your family to Nashville and/or visiting Nashville for the first time — with the ultimate goal of helping you find fun things to do in Williamson County and Davidson County. When I'm not out & about enjoying the Nashville area, you'll find me at the corner of Good News & Fun Times as publisher of The Fun Times Guide (32 fun & helpful websites). To date, I've written over 500 articles on this site! Many of them have upwards of 100K shares.