This post may contain affiliate links. If you buy thru these links, we may earn a commission at no additional cost to you.
---
Sound appetizing to you?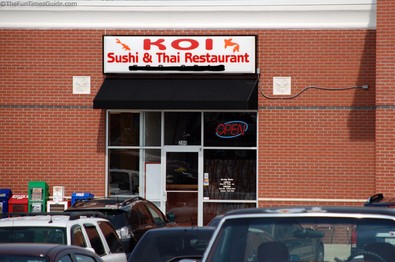 I'm just checking…
I almost put this under the it's just not right category on my other website. But then I thought, maybe it's just me.
Koi Sushi & Thai is a new restaurant in Franklin, TN. And, just to be clear, we have not been there yet — for the food. We've only been there to snap this photo. It catches our attention every time we drive by the little strip mall where it's located.
So I'd love to hear from you if you've eaten at the Koi restaurant in Franklin.
Call me old-fashioned, but I just have a hard time getting past the name. I mean, koi is not exactly a delicacy around here. They're more commonly thought of as pond fish.
Then again, who knows?… Maybe koi means something complete different in Thialand or Japan. Maybe koi is a delicacy and I simply haven't had the pleasure of enjoying it yet.
I guess I still have a little to learn about koi…
UPDATE 2/2/09: Well, I'm here to say, I have to eat my words because Jim and I finally tried the Koi Thai restaurant the other day. And, after months of driving past it and mocking its name, we were pleasantly surprised once we tried the food.
Yep, it's AWESOME — incredibly fresh and just the right amount of spicy (we both get 4 out of 5 on their "hotness" scale). In fact, it's so good, we went back and ate there twice in 3 days three times in 5 days!
The servers are the sweetest (and fastest) ever found at a Thai restaurant. I'm guessing this place seats well under 100, and there have only been 1 or 2 other parties dining each time we were there during lunchtime. But dinner times are really busy.
So far each time, I've gotten the Pad Ka Prow (which is basically the same as my "501 chicken hot" at Royal Thai, but fresher and tastier — especially since Royal Thai got new owners recently). Jim got the Pad Thai each time. He really likes the way they make it, but he's likely to switch it up a bit on future visits. I tend to always stick with my all-time favorite at virtually every Thai restaurant I go to. (The 501 and Pad Ka Prow is pretty much the "basil chicken" dish at most Thai restaurants.)
At first, we were a little disappointed that they charge for refills of soda. Jim's usually happy drinking tea, but I'm a soda girl. Being frugal, I decided to try the tea at this Koi restaurant, and it's really good. I happily drink cups and cups of their free refills on iced tea.
Overall, the prices at Koi Sushi & Thai are quite good — especially during lunchtime (11AM – 4PM). You get a small salad and eggroll, plus the entre for $6.95 (for the Pad ka Prow; $7.95 for the Pad Thai). It seems like a lot of food. And it was nice to walk out of there spending only $20 for the two of us (including 2 iced teas at $1.50 each).
According to the reviews on their own web page, people seem to love the sushi! We finally tried the sushi when we went there for dinner for the first time. We got the Las Vegas rolls — to die for. (And I'm not usually too crazy for sushi.) It was $10.95 for 6 or 7 rolls. Really good.
Their dinner prices are a little screwy. Oddly enough, the price for the exact same dish jumps $1-$4 from 4PM to 9PM, but you don't get eggrolls or salads included with the dinners. Nor do the portions appear to be larger, that I could tell. For example, the Pad ka Prow at lunch (with salad & eggroll) was $6.95, yet it was $10.95 for dinner without the salad & eggroll. The Pad Thai was $7.95 for lunch (with salad & eggroll), but $8.95 for dinner without the salad & eggroll). I don't get their pricing method at all. If you want to save money and get more food, go there for lunch!
One thing's for sure… we'll be back again and again. We've already proven that! I'm so glad we finally gave Koi Sushi & Thai a chance and tried it for ourselves.
Oh, but I have to say, the "artwork" featuring the big orange Koi fish on the walls?… still very unappetizing. But that's just me.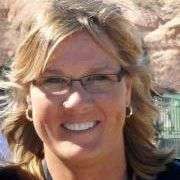 We moved from Florida to Tennessee in 2001. All signs point to the fact that we will probably retire here — by choice. We L O V E Nashville! Our favorite places to live are just south of the City — we've had houses in Brentwood, Franklin, and Spring Hill. And we have properties in Leipers Fork, Cookeville, and Lewisburg. This site is where I share my best tips for moving your family to Nashville and/or visiting Nashville for the first time — with the ultimate goal of helping you find fun things to do in Williamson County and Davidson County. When I'm not out & about enjoying the Nashville area, you'll find me at the corner of Good News & Fun Times as publisher of The Fun Times Guide (32 fun & helpful websites). To date, I've written over 500 articles on this site! Many of them have upwards of 100K shares.