This post may contain affiliate links. If you buy thru these links, we may earn a commission at no additional cost to you.
---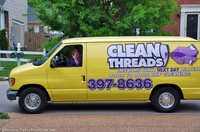 We've been utilizing a door-to-door drycleaning service for years now.
When we first signed up for it, we were both working outside of the home and we had a lot of professional business attire that needed frequent drycleaning.
These days, we only dry clean a few items each month. But we decided to keep utilizing the pickup and delivery service provided by Clean Threads anyway.
Here's why…
Is It Worth It?
Let me tell you, there is nothing like the personal door-to-door service you get from a drycleaning business like this.
Yes… it is a "luxury" of sorts — and we could certainly live without it. In fact, at first I felt like I didn't deserve to utilize a service like this. I mean, we're not wealthy or anything. And I always thought that only the rich & famous used services like this. I was wrong.
Truthfully, it's not that much more expensive than the drycleaner at the brick & mortar store in town that we were using before this. On average, items cost up to 50 cents more apiece. But the convenience pays for itself.
We love the fact that we don't have to waste gas to drop off and then pick up our dry cleaning anymore. Plus, even finding the time to schedule it into our busy lives has been alleviated.
Why We Like Clean Threads Best
There are a handful of companies that provide door-to-door dry cleaning in Franklin, TN. Some are more expensive than others. Some provide more services than others. Some have a broader delivery area than others.
When we signed up with Clean Threads about 4 years ago, it was called "Dry Cleaning To Your Door". A year or so ago, it switched to Clean Threads. But the service remained the same, and the ownership remained the same (if not better).
Mostly what we like about Clean Threads is that they provide NEXT DAY delivery, plus they pick up & deliver every week on the same days & at the same time!
Since we've been using this service, we have completely eliminted the chore of remembering to drop off and then pick up our dry cleaning. And we couldn't be happier.

How It Works
First, call Clean Threads. (The owner is Michele Chaffin. She'll probably be the one to answer the phone.) Get a quote over the phone in order to make sure this type of service makes sense for you, based on your family's monthly dry cleaning needs.
Then, they will add you to their driving route, add you to their phone call reminder service, and before you know it they'll be at your front door (on a predetermined day) to pick up your first bunch of clothes that need to be dry-cleaned.
On that first visit, they will leave 2 things:
  A bright yellow bag clearly marked Clean Threads. It has a permanent ID tag attached with your name, address, and the amount of starch you prefer on men's shirts (if any). From now on, you will use that bag to hold all of your garments that need drycleaning.

An over-the-door wreath hanger. This serves as a "hook" on which the Clean Threads delivery driver will hang your freshly dry-cleaned garments. 
From then on, you simply place your bright yellow bag filled with garments to be drycleaned right outside your front door on pick-up days. (I will add that we have a porch, so that's a plus. I'm not sure what people do when it's raining and they don't have a porch.) You could also hang the yellow bag from the over-the-door wreath hanger on pick-up days.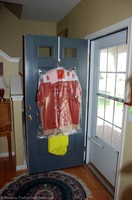 In my area, the driver arrives for pick-up on Wednesdays by 8AM. You're asked to have your yellow bag by the front door no later than 7:30AM. They deliver your clean garments the next day (Thursdays around dinner time).
You don't have to be home when they pick-up or deliver your clothes.
And, if you don't have any garments that need dry-cleaned this week, you don't have to do a thing! Since they keep their routes fairly small, the drivers complete their exact same route each week, regardless of the number of pick-ups they might have. So that means you never have to remember to "schedule" a pick-up. (Love that!)
The Door-To-Door Delivery Service
We also like Clean Threads because… not only do you not have to lift a finger to get your dry cleaning done, but the pick & delivery is done without bothering you at all!
That's right, it's quite rare that you will ever come face-to-face with the delivery driver — whether they're coming …or going! (But if you do, and it's Michelle, do yourself a favor and have a chat. She's a joy!
The reason you probably won't ever meet (or even see) the deilvery driver is simply because they're so quick and efficient! They pick up precisely at the time they've promised. And they don't ring the doorbell when they're picking up — because it is early in the morning. They just grab your yellow bag and go!
In fact, I'd been trying to catch their delivery driver for so long just to get a picture for this article. But I kept missing them. (I have lots of photos of the tail-end of their yellow van as it's driving away!) Finally, on this day, Jim and I happened to be working in the garage when Michele arrived with our clothes. So I asked her permission to take these shots. She reluctantly agreed.
And, when they deliver your cleaned garments the next day, they do ring the doorbell, but they don't wait around for you to answer the door or anything. The idea is… if you're at home, you might not want to leave clothes hanging on your front door in garment bags.
We absolutely love how seamless this process is. And it helps that we don't have to go our of our way or be disturbed in the process.
Other Great Bonuses
One thing that Clean Threads does that most othe
r door-to-door dry cleaning services don't do: They call you with a pre-recorded reminder message on the evening before your scheduled pick-up. Those reminders are priceless. And again, it's a recording, so you don't really "waste" any time talking on the phone or scheduling pick-ups.
If you need to get a button sewn onto a garment, or fix a belt loop or something, Clean Threads will do that for you at the same time your garments are being dry-cleaned.
And, if they see a spot, they'll treat it properly. And they'll add a little tag to the garment letting you know they've done so.
In case you're wondering, we've never had an item lost or misplaced in the years that we've used Clean Threads. I'm telling you, they are on the ball there. If you're thinking about trying a door-to-door drycleaning service, I'd encourage you to try Clean Threads.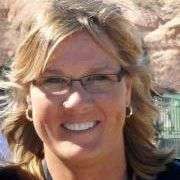 We moved from Florida to Tennessee in 2001. All signs point to the fact that we will probably retire here — by choice. We L O V E Nashville! Our favorite places to live are just south of the City — we've had houses in Brentwood, Franklin, and Spring Hill. And we have properties in Leipers Fork, Cookeville, and Lewisburg. This site is where I share my best tips for moving your family to Nashville and/or visiting Nashville for the first time — with the ultimate goal of helping you find fun things to do in Williamson County and Davidson County. When I'm not out & about enjoying the Nashville area, you'll find me at the corner of Good News & Fun Times as publisher of The Fun Times Guide (32 fun & helpful websites). To date, I've written over 500 articles on this site! Many of them have upwards of 100K shares.